If you want to buy a new blender that can assist you in making smoothies, milkshakes, dips, soups, and many other things, you might be searching for the best brand.
Two of the best and most popular brands for blenders are Ninja and Vitamix. So Vitamix vs. Ninja blender, which is best?
If we compare these two brands, we can say that Vitamix is more popular than Ninja, but these two brands are true rivals. It is because both these companies produced the best quality blenders. If we talk about quality, Vitamix is incomparable. However, the Ninja is way cheaper than Vitamix in terms of price. Ninja has hundreds of different types of blenders that are affordable. So you can easily select a blender according to your budget.
Read Also: 9 Best Ninja Blenders – BPA-free, Efficient and Durable
Both Ninja and Vitamix produce the best blenders we can ever find in the market. Vitamix blenders are best for use in commercial kitchens. On the other hand, Ninja blenders have a reputation for home use.
Different features make every blender different. That also includes the price of these blenders and different variations according to different users. Certain blenders have multiple user settings so that users can use them quickly; we'll help you choose the best blender to make it easy for you.
Vitamix Vs. Ninja Blender, Which one is better?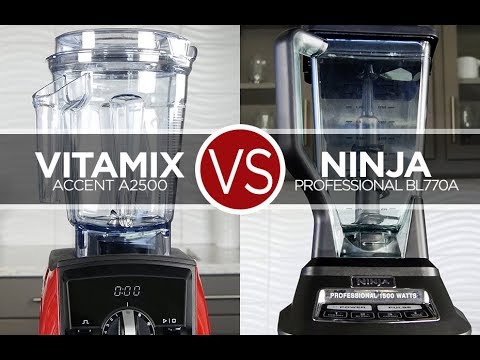 Even though Vitamix blenders are pretty pricey, they are of high quality. That's why many commercial kitchens use these blenders. These blenders are a high-quality investment you can make in your home or professional kitchen. They will last for a very long time.
See Our: 10 Best Cold Press Juicers – Drink Healthy, Stay Healthy
Starbucks uses Vitamix blenders to be sure of the premium quality. Vitamix produces about 20 blenders, prices starting from $400. Now that we've told you about their lost range of blenders, you might be thinking about what blender you should go for.
Vitamix products with higher price ranges are comparatively much easier to use. All you need to do is add your ingredients and press the start button. After that, you can walk away, do other things you want to do, and return to your perfectly made smoothies and soups. You can buy Vitamix blenders online at Walmart, Best Buy, and Amazon.
Ninja blenders are designed well. However, they are a bit different from Vitamix products. They feature a smoothie cup attached to the lower side of the blender. Ninja is designed with the latest technology. You can easily buy Ninja blenders at Walmart or Amazon. Ninja website holds significant discounts on their products at black Friday sales to provide products at an affordable price.
Read Also: 10 Best Kettles – Boil It, Pour It, Sip It, And Enjoy It!
Design
Vitamix and Ninja blenders differ in their designs. The Vitamix 5300 blender features a 64-ounce container, a tamper, and extremely sharp blades made from stainless steel for efficient blending. Moreover, they are also durable. Furthermore, Ninja's professional plus blender has a single serving cup for anyone who wants to drink smoothies or milkshakes on the go.
These blenders differ in design and the quality of all the components present inside the blender. The difference between the qualities of these blenders is quite noticeable. There isn't a massive difference in the design, though. Both these blenders will look graceful at your countertops.
Read Also: 10 Best Ice Cream Makers – Happiness in a Bowl
Power
The Vitamix 5300 Blender comes equipped with a 2.2 horsepower motor to operate the blender, an extreme power that can blend all types of food textures. It is so powerful that it can turn ice cubes into fine snow in seconds.
On the contrary, the Ninja Professional Plus blender features a 1400 watt motor, less than a Vitamix blender. But it is still a good amount of power mainly to whip up smoothies and milkshakes. However, the design of Ninja blenders pushes food to the sides of the container while blending. Because of this, there are chances that some bits of food may remain unblended.
Ninja professional plus has a button through which you can start it, and the blender will start working at full speed. However, the Vitamix 5300 blender features a speed control dial through which you can easily adjust the blender's speed according to your choice of how finely you want to blitz things.
Read Also: 10 Best Blenders for Smoothies – Reliable and Durable
Multifunctional
Ninja professional plus blender is the best option for smoothies and shakes and works just fine with these drinks. However, you can not blend things with different textures, such as making nut butter or sorbets. You will not be able to intermix hot or cold blends; in this case, the Ninja professional plus blender is not that versatile.
Vitamix A3500 blender excels in this feature as well. You can use the pulse function or use the normal blending function to your liking. In this way, you can customize how you want to blend your shakes and smoothies. Vitamix blenders also come with attachments such as food processors. It means that you can use your blender in various ways. It will also make your meal prep time shorter and much more efficient. Even though Ninja blenders are not versatile and adaptable, they still offer daily use blenders at affordable prices.
Read Also: 10 Best Coffee Machines – Electric, Automatic, Stainless Steel Coffee-Maker
Price
Vitamix blenders are high-end blenders; they start from about $250 and then rise in price concerning specific product end model designs. They are pricey, but they also come with a 10-year warranty and highly focus on the quality of the components used within the blender. We suggest you invest a good amount of money in something that will last longer and is multifunctional.
Ninja blenders start with $70 for a personal blender that comes with a single smoothie cup. Their most expensive model can last up to 160 dollars. Ninja blenders are inexpensive and are best for newbies who want a blender for domestic use and experience how basic blenders work before going for an expensive and high-end model. That's why Ninja blenders are a top choice.
Generally, if we compare the prices of both these brands, you can buy 3 Ninja blenders with the same amount for a Vitamix blender. Although Ninja blenders are cheap, they are still efficient in blending.
Check out: 10 Best Cold Press Juicers – Drink Healthy, Stay Healthy
Cleaning and maintenance
Blenders with recent technologies have a self-cleaning feature. This feature is in both blenders. Vitamix blenders have a dial to adjust the speed of the blender. This feature makes it easier for the user to control the power and speed of the blender. Besides, having a dial button is more reliable than pressing a single button multiple times.
Ninja also has a blender model with a speed knob called Ninja SS351, but all Vitamix blenders have this feature.
See Our: 10 Best Knife Sharpeners – Easy, Effective, and Safe
Attachments
Some models of Ninja blenders have a personal cup attachment. They can also be attached to a food processor, making them multifunctional. But there's also a downside to this function. The food processor attachment of the Ninja food blender doesn't include one of the essential components of a food processor, which is slicing or shredding disc. It can only chop ingredients and knead any dough.
Read Also: 10 Best Stand Mixers – Your Cooking Partner
Durability
There's no point in spending money on something, whether it's cheap or expensive, if it's not durable. As far as longevity is concerned, Vitamix has a win for sure. All Vitamix products come with a 10-year warranty which is a reasonably long time considering the price. On the other hand, Ninja blenders have a warranty of only a single year, which is short.
Build quality is an essential aspect that determines the durability of a blender. Ninja blenders have fine sharp blades, and their quality depends mainly on the blades. However, Vitamix blenders have sharp blades made with stainless steel, ensuring efficient blending and durability.
Vitamix is preferred in this scenario because sharp knives may become dull with each use over time, but you can sharpen them again. You can not sharpen blender blades once they become dull, so you should go for something that stays effective for the longest time possible.
Read Also: 9 Best Food Processors – For Easy Breezy Meal Prepping
Speed
Vitamix blenders feature a powerful motor. It makes the blades spin so fast that they can heat the ingredients you are blending. This feature isn't necessary if you're making smoothies with your blender. In addition, you can easily adjust the speed with the speed dial. It means you can either lower the blender's speed or make it run at the pulse option.
In this way, the fruit will remain frozen but completely blitz up, resulting in a cold and smooth paste. We can't decide the crushing ability of these blenders just by determining their smoothie-making ability.
Read Also: 10 Best Coffee Grinders – Grind to Perfection in a Jiffy!
Sharp Blades
As far as crushing is involved and you want to crush ice cubes into fine ice, Ninja's sharp blades can help immensely. But if you add a little water to the ice, Vitamix blenders can work just as fine to create fine dust of snow. If you want to make summer slushy, you can easily blend your fruit and ice slushy without adding extra water.
See Our: 10 Best Bread Maker – Style with High Performance
Fine Blend
Putting all the ingredients at the right time and in the correct order also ensures that everything is blended without getting heated. Working with Ninja blenders, if you're using raspberries, blackberries, chia, or flaxseed, you may face problems if you don't add ingredients at the right time and order.
If you add the liquid too early, the seeds will be able to avoid the blades of the blender, and you'll not end up with a good smoothie. You will also need to scrape down the sides of the container once or twice so that the mixture gets evenly blended and there are no big chunks of fruit.
In addition to the order of adding ingredients, varying the power will also affect the consistency of your smoothie. If you start with the highest power, it will cause the ingredients to rise to the blender's lid, which means you have to scrape down the sides of the blender effectively. So we recommend that you thoroughly read the instructions given in the manual book of the blender, so you don't face these minor inconveniences.
Conclusion
Both blenders are suitable according to their category, and they are best at what they do. The choice will come down to the cooking recipes you're going to create and if you are impatient with the noise-making machines. Vitamix is excellent as a blender, but it turns even the seeds into grains, making them completely bland.
The Ninja simultaneously shouldn't be used with hot drinks. If you face any problem, don't consider that it's the machine's default; you should quickly call the seller.